Dog Friendly Palos Verdes
DOG PARKS IN PALOS VERDES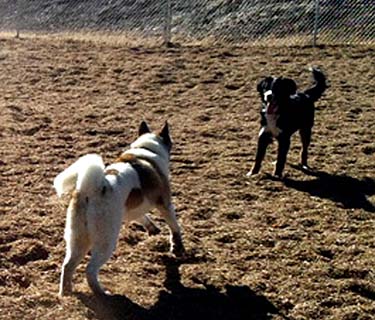 Rancho Caninos Dog Park
30940 Hawthorne Boulevard Rancho Palos Verdes, CA 90275
310.544.5260
Website
Located next to a tennis court, this half-acre park is covered in cedar chips. There are two separate areas for small and large dogs and there are water bowls available for thirsty dogs.
Parts of the park provide shade and there are water faucets, a restroom and a hand wash station for your convenience. ADA accessible. Open one hour before sunrise until one hour after sunset.
DOG FRIENDLY BUSINESSES IN PALOS VERDES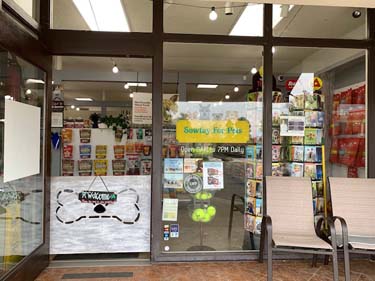 Sowley For Pets
716 Yarmouth Road, Suite 103 Palos Verdes Estates CA 90274
310.377.1616
Website
Located in Lunada Bay, this sweet little pet store is well-stocked with a wide variety of foods, treats and supplies for pets. Stop in for a dog treat after lunch at one of the neighboring restaurants and be sure to say hello to their friendly black store cat, Nola.
DOG FRIENDLY RESTAURANTS IN PALOS VERDES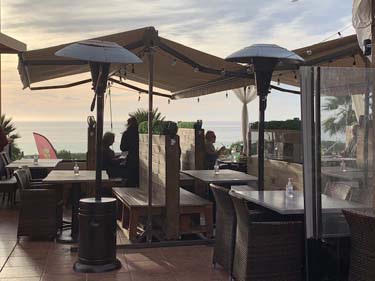 Asaka Sushi & Grill
31208 Palos Verdes Drive W. Rancho Palos Verdes, CA 90275
310.377.5999
Website
Contemporary setting with comfy seating and plenty of outside tables for you and your dog. This is the sister restaurant to the one with the same name in South Redondo Beach Riviera Village. Try their sushi rolls or enjoy their long list of appetizers and entrees and take in the spectacular view across the street from the Pacific ocean.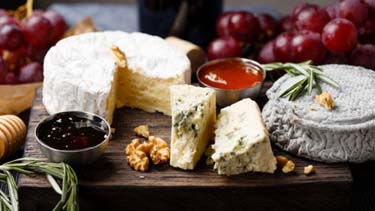 Lunada Market & Deli
2201 Palos Verdes Drive West Palos Verdes Estates CA 90274
424.206.2880
Website
Located in Lunada Bay Plaza, this charming market is like a slice of Napa on the peninsula. The deli has extensive choices in meats, charcuterie and cheeses, complemented by fresh pressed juice and smoothies. Build a gourmet picnic lunch or dine at one of the outdoor tables, where Spot is more than welcome.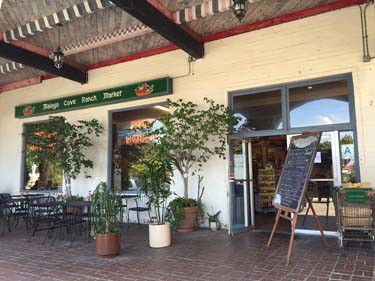 Malaga Cove Ranch Market
43 Malaga Cove Plaza Palos Verdes Estates, CA 90274
310.375.2683
Website
Best kept secret in the South Bay. Looks like an old-fashioned general store with a wine bar, pastry bar and extensive deli to go items. The entire menu is tried and tested – whether you want one of their famous cheeseburgers or a deli sandwich, pasta or pizza, you can't go wrong. Delicious food and old-world charm. Fido is welcome at the outdoor tables.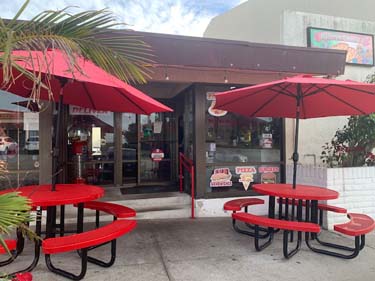 Rafaellos
720 Yarmouth Road Palos Verdes Estates CA 90274
310.541.6545
Website 
Delicious pizza by the slice and a menu full of options including burgers, pasta and sandwiches Italian style! Try their Monkey Fries (bacon cheddar fries) and enjoy the fresh air blowing up the street from the ocean. Dogs are welcome at the outside tables.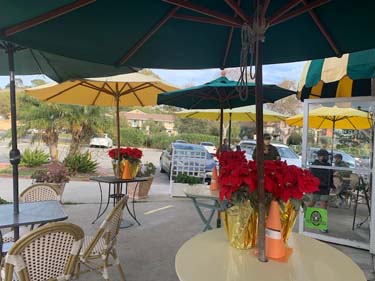 Saint Honore French Bakery & Café
2201 Palos Verdes Dr W, Palos Verdes Estates
310.544.3100
Website 
Full espresso bar with a nice assortment of pastries and desserts. Located in Lunada Bay next to the Lunada Market & Deli. Dogs are welcome on the outdoor patio where there are several tables with umbrellas.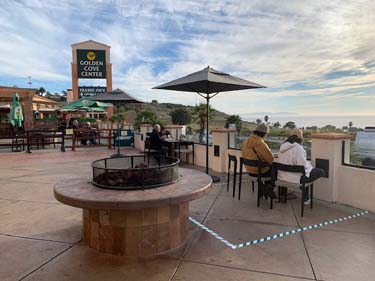 Starbucks at Golden Cove
31202 Palos Verdes Dr W, Rancho Palos Verdes, CA 90275
310.265.7230
If you just need a quick refreshment, this Starbucks boasts the best view of any in the Los Angeles South Bay. Take your pastry and your dog out to the back patio and enjoy beautiful coastal views while you sip your favorite coffee.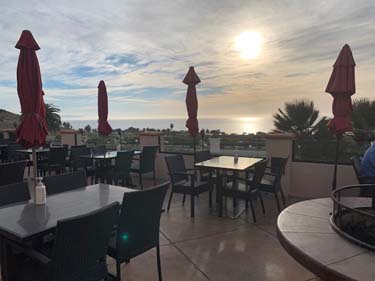 Swan Thai RPV
31206 Palos Verdes Dr W, Rancho Palos Verdes, CA 90275
310.377.7200
Website
Located in Golden Cove Center, this Thai restaurant offers curries, house specials and seafood, as well as some BBQ choices like chicken or honey ribs. Noodle soups and stir-fried noodles are tempting and delicious. Enjoy the spectacular ocean view from an outside table, where Spot if always welcome!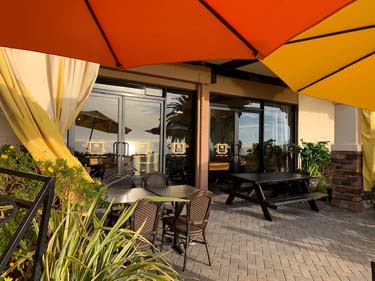 Yellow Vase at Golden Cove Center
31248 Palos Verdes Drive W, Rancho Palos Verdes, CA 90275
310.377.8813
Website
This is a great place to stop if you're taking a drive down the coast to see the sights. Breakfast includes lots of choices from brioche French toast or Belgian waffles to pastries and omelettes. Lunch items include soup du jour, lovely salads and paninis. Full espresso bar. Great desserts! Help yourself to the outdoor seating where Spot is welcome and enjoy the view of the ocean! After lunch, you can walk Spot across the street alongside the coast.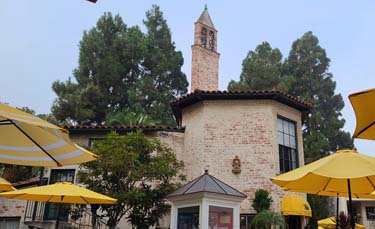 Yellow Vase at Malaga Cove Plaza
51 Malaga Cove Plaza, Palos Verdes Estates, CA 90274
310.378.0013
Website 
This location is oozing with charm. You will feel like you have stumbled into a European village when you visit Yellow Vase at Malaga Cove. Choose from a simple breakfast – like a croissant and a Spanish latte or something more exciting like the Yellow Monte Cristo, a stuffed brioche French toast with black forest ham and swiss cheese, served with a side of syrup! Lunch offerings include soup du jour or soup and salad or a wonderful list of paninis. Enjoy the outdoor tables with umbrellas with your dog and soak in the ambiance!